ALIGN Project
---
Video is this year's Quality Improvement Curriculum that aligns with the Adult Health Measures.
---
Standardized health measurements are essential for both care improvement and for making informed choices by patients, payers, and other provider organizations. The outcomes of care are important information for patients so that they can make informed decisions about where to receive care and who should be providing it. 
The ALIGN coalition is a joint project of Partnership for a Healthy Nebraska and the University of Nebraska Medical Center College of Public Health which has engaged Nebraska Payers (both Commercial and Medicaid) as well as healthcare organizations (including Accountable Care Organizations, hospitals, and safety net providers) to adopt a core set of 11 measures for statewide alignment across all payers.  Read more about the ALIGN project in the Nebraska Medical Association Advocate Magazine.
Measure selection criteria focused on high value, high impact and evidence-based measures. Ten measures were initially selected through this process, but an eleventh was added based on the areas where Nebraska ranked low on America's Health Rankings.  The current measures selected are in the table below: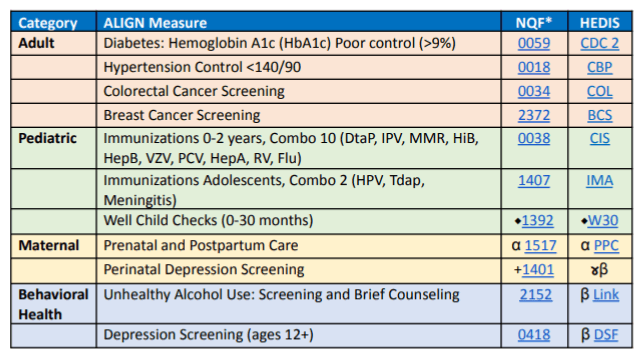 Click to View Nebraska Medicare Shared Savings Summaries by Year: